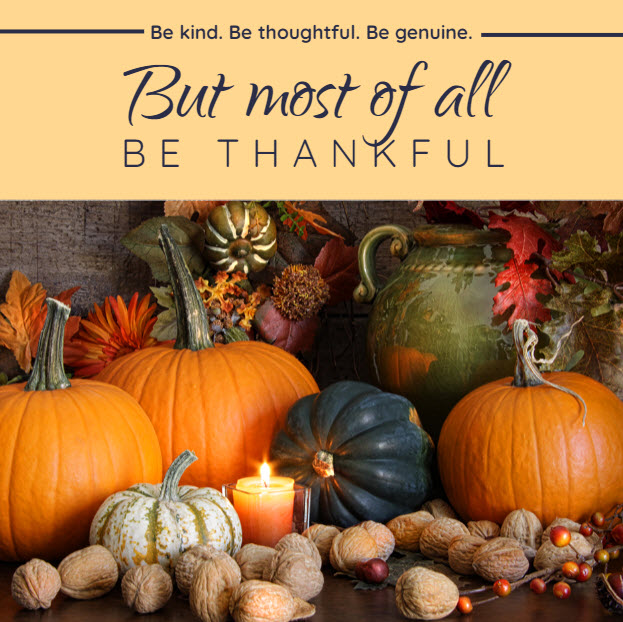 Wow, what a crazy year 2020 has been so far! The holidays are upon us and with only a week left until Thanksgiving, KPT wanted to take some time to reflect upon and share some of the things that we are so very thankful for this year.
First and foremost, we are incredibly thankful for our wonderful clients! It has certainly been an unusual and challenging year in real estate, but we have truly enjoyed working with all of you and we thank you for trusting us to help you reach your real estate goals.
We are also thankful for our families! Our families have been there for us (literally all day, every day it seems!) and the silver lining in 2020 is that we have all reconnected in ways that would not have been possible if we were all going in our usual different directions.
Individually, here's a few things our team is thankful for in 2020:
Kim is thankful for:
The Food Channel for providing me with plenty of healthy recipes for my cookbook

Heated car seats on cold mornings

My dog Vito who listens and never complains
Jay is thankful for:
My daughter who keeps me on my toes

A roof over my head to call home

Amazon Prime for it's convenience, on-time delivery and free shipping
Lauren is thankful for:
Elastic waist pants for more room at the Thanksgiving table

Liberty Bell in Melrose for when you just can't bear to cook one more night

The giggles coming from my kids' playroom because they make me smile
Thankfulness in 2020 would not be complete without giving thanks for our wonderful healthcare providers and first responders who are working so diligently to keep us all safe and healthy during the pandemic. We see you, we appreciate you and we are thankful.
Wishing all our clients, community, family and friends a very safe, healthy and happy Thanksgiving!!!
Kim, Jay and Lauren